Neckline: cold shoulder
Length: conventional
Pattern type: solid
Style: casual, sexy
Size ChartInches Centimeters
* Our size chart provides detailed measurement of our clothes.
* Note that the measurement of  garments may vary according to design and style.
* Please take into consideration that some  Items are designed to be slim fit. If you find you're in between sizes, we recommend ordering a size up.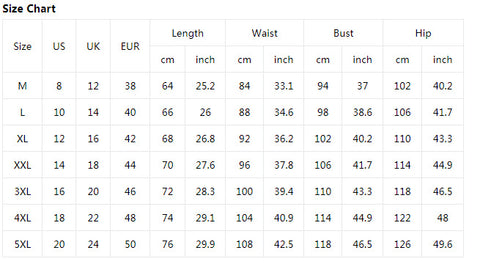 * Measurements shown in the Size Conversion refer to body measurements.Size Conversion
* This size conversion chart is intended for reference only.Please refer to the size chart when ordering.
* All conversions are approximate.
| | | | | | |
| --- | --- | --- | --- | --- | --- |
| EU | US | UK | Bust | Waist | Hips |
| 32 | 0 | 4 | 29 ¼-30 ¼ | 23 ½-24 ½ | 33-34 ¼ |
| 34 | 2 | 6 | 30 ¾-32 | 24 ¾-25 ½ | 34 ¾-35 ¾ |
| 36 | 4 | 8 | 32 ¼-33 ½ | 26-27 ¼ | 36 ¼-37 ½ |
| 38 | 6 | 10 | 33 ¾-35 | 27 ½-28 ¾ | 37 ¾-38 ½ |
| 40 | 8 | 12 | 35 ½-36 ½ | 29 ¼-30 ¼ | 39-40 ¼ |
| 42 | 10 | 14 | 37-38 ¼ | 30 ¾-32 | 40 ½-41 ¾ |
| 44 | 12 | 16 | 38 ½-40 ¼ | 32 ¼-33 ¾ | 42 ¼-43 ¼ |
| 46 | 14 | 18 | 40 ½-42 ¼ | 34 ¼-35 ¾ | 43 ¾-45 ¼ |
| 48 | 16 | 20 | 42 ½-44 ½ | 36 ¼-37 ¾ | 45 ¾-47 ¼ |
| 50 | 18 | 22 | 45-46 ¾ | 38 ¼-40 ¼ | 47 ¾-49 ¼ |
| 52 | 20 | 24 | 47 ¼-49 ¼ | 40 ½-42 ½ | 49 ½-51 ¼ |
| 54 | 22 | 26 | 49 ½-51 ½ | 43-45 | 51 ½-53 ¼ |
| 56 | 24 | 28 | 52-54 | 45 ¼-47 ¼ | 53 ½-55 ½ |
| 58 | 26 | 30 | 54 ¼-56 ¼ | 47 ¾-49 ½ | 56-57 ¾ |
| 60 | 28 | 32 | 56 ¾-58 ¾ | 50-52 | 58 ¼-60 ¼ |
| 62 | 30 | 34 | 59-61 | 52 ¼-54 ¼ | 60 ¾-62 ½ |
How to Measure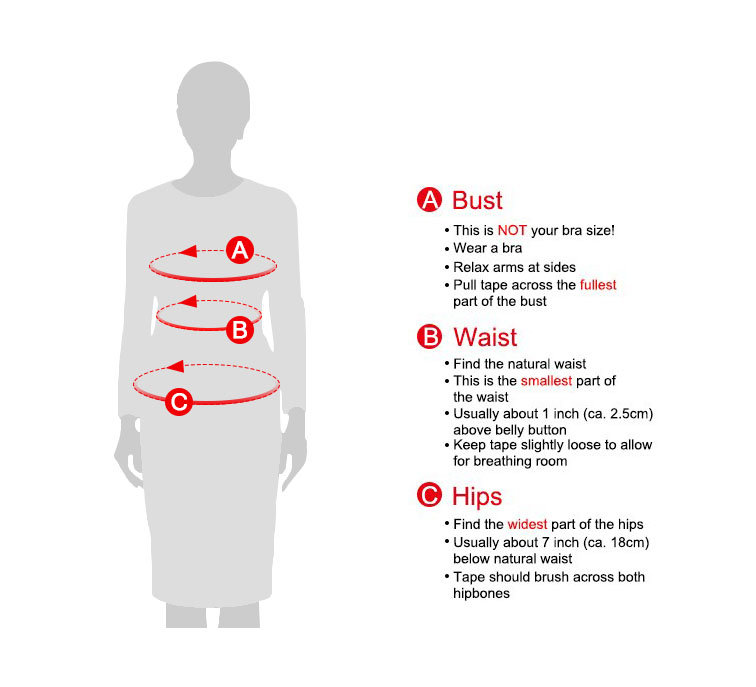 Total Delivery Time = Processing Time + Shipping Time
Processing Time: 7-9 Days
Expedited Shipping: 3-6 Business Days
Standard Shipping: 7-15 Business Days